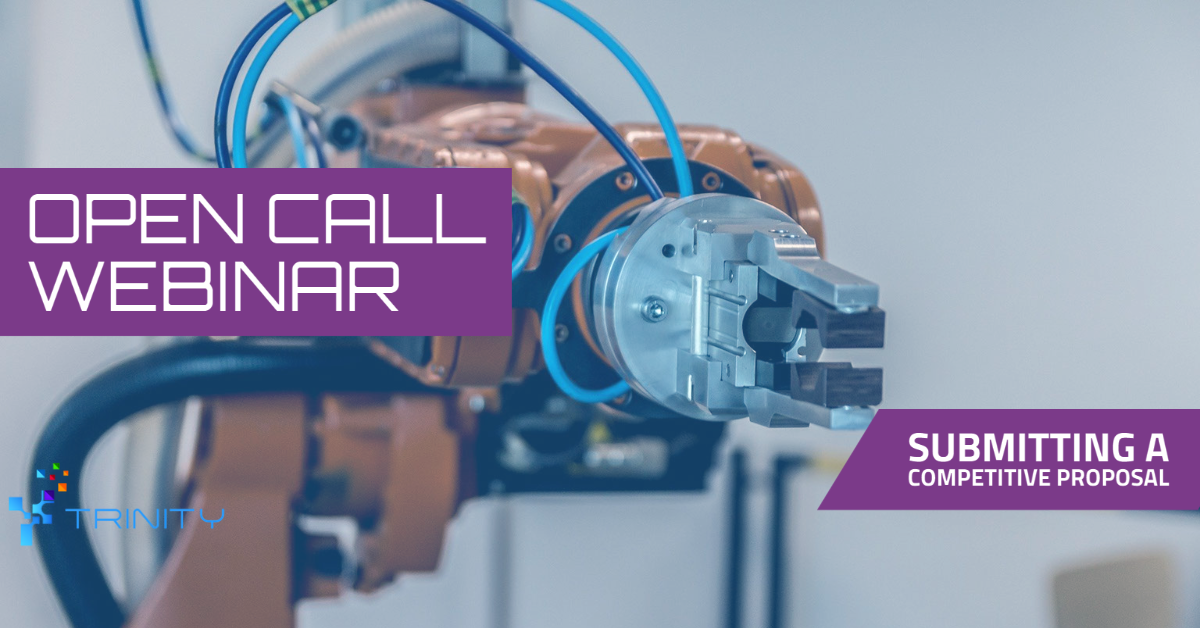 TRINITY Open Call Webinar: Submitting a competitive proposal
Location

Online: Microsoft Teams

Duration

1h 30min
Save the date: 9 March 2021, 11.00 – 12.30 CET
The Open Call Webinar organized by the TRINITY consortium will guide you through the application process for the TRINITY funding to give you all the instruments necessary to submit a competitive proposal! Don't miss it.
Webinar Agenda
11.00 – 11.10 Introduction to TRINITY Open Call #2- Prof. Minna Lanz, Professor of Mechanical Engineering at Tampere University and TRINITY Coordinator.
11.10 – 11.20 Financial capabilities, budget and eligibility criteria – Salla Kotakorva, Specialist at Tampere University.
11.20 – 11.30 How to apply, application documents – Iwa Stefanik, EU Projects Manager at F6S.
11.30 – 11.35 TRINITY Matchmaking and brokerage services, find your partners – Pavan Sriram, Head of International Projects at Digital Norway. 
11.35 – 11.40 TRINITY mentoring and best practices from the projects funded in the Open Call #1 – Jyrki Latokartano, Project Manager at Tampere University.
11.40 – 11.50 TRINITY benefits from the SME perspective – Stefano Ellero, TRINITY demonstration coordinator, STAM S.r.l., Italy
11.50 – 12.30 Q&A session and open floor for discussions on the topics presented
POST EVENT MATERIAL:
Presentations and recording:
All the recordings will be soon available in our dedicated playlist on TRINITY YouTube channel