Standardised industrial robotic solution for metal bending automation
Name of demonstration
Standardised industrial robotic solution for metal bending automation
Main objective
Provide the world's first standard bending robot with an easy to manage hardware and unique control solution, enabling it to be used at any of the existing press brakes.
The solution is an integrated intelligent system that operate bending machine fully replacing the operator.
Short description
RoboBend introduces a standard robot that operates bending machine. An operator specifies the piece that needs to be bent through an easy-to-use user interface. This process is repeated only for new pieces since all information is stored and can be accessed from the cloud server. The robot picks up prefabricated pieces from the feeder system with the robot arm and relevant gripper (vacuum, mechanical, electromagnetic), places them in the bending machine, takes them out once bent, and neatly stacks them on a pallet. It operates until all prefabricated pieces are bent and the feeder cartridge needs to be replaced.
Owner of the demonstrator
RoboBend ApS
Responsible person
Thomas Ronlev, CEO & Co-Founder
+370 685 35 145,
tsr@robobend.dk
NACE
C28.4.1 - Manufacture of metal forming machinery
Keywords
Robotics, Machine Learning, industrial robotics, metal processing industry automation, flexible metal bending, standard industrial robotic solution, robotic cell, standard design and universal tending technology.
Benefits for the users
Speed and ease of programming: conversion of drawings into robot programs takes only ~15 minutes per 1 bend (if a part has 3 bends, then it will take around 45 minutes). That is a major improvement and benefit as anyone in the factory would be able to program new parts into the robot.
Costs savings: RoboBend will improve the manufacturing processes and whole industrial productivity: repeatable accuracy and improved quality of production by more than 25%; increased machine and system utilization from 70% to 95%, furthermore, the price of RoboBend solution and its integration is lower 2 times (70K EUR vs 140K EUR on average) – case study with a Danish company shows that the potential gains from this for a company are up to 140K EUR annually. It also leads to the decreased Return on Investment (ROI) period for a company to 8 months if RoboBend is used regularly and to 6.5 months if used additional 400 hours per year.
Increased safety: RoboBend works autonomously and replaces the operators reducing the number of accidents at work in the metal
industry (now, 363K accidents and 135 fatalities at work in the EU annually).
Quality: RoboBend solution control the most affecting production quality issues (the machine inaccuracies, programming challenges and metal piece picking/alignment)
Standardization: standard solution compatible with any press brake makes the clients become more convinced to invest into robots.
Enabled robotization: RoboBend has the potential to robotize the metal industry which will have a significant impact on reducing metal worker shortages – it is estimated that up to 2M vacancies in the industry could potentially be filled by 2025.
Innovation
This use case possesses the following innovation features:
Automation of the entire process performance – advancement in agile
planning and manufacturing. Automation allows rapid change of manufacturing from one order to another 

and 

performance
measurement from order to order. It also provides ability to move the system to another press brake or storage area in the need of manual work.
Old processes use custom made solutions for every potential customer. It means expensive solutions are either specifically designed for one problem or even more costly solution is a full system that includes a press brake, robot, and all of the peripherals. RoboBend system delivers a standard solution for sheet bending tasks. It is built specifically to be integrated with any of the existing press brakes. With it the customer receives easy to use User interface with easy checkpoints to ensure easy and correct robot pre-set for production with ability of monitoring.
Risks and limitations
Integration: RoboBend is a sophisticated standard solution which can be used with all press brakes and all robot arms. But there may be new products in the future that will introduce some limitations for integration of RoboBend. However, in near future nothing might affect the integration.
Technology readiness level
9 - System/model proven and ready for full commercial deployment
Sectors of application
Metal processing industry – metal bending: RoboBend is the World's first standard bending robot operating bending machines. It solves the problem of finding qualified machine operators, provides higher capacity on company's present machines, lowers production costs, and delivers consistent high quality for your clients. An important component in RoboBend is the press brake control interface (RBMI) – the brain, which has embedded the software giving an "intelligent solution" and allows RoboBend to work with any existing press brake on the market. This is a key feature and makes RoboBend easy to implement and to use – providing the robot control over the machine, easy programming interface, quality control and at the same time is based on Industry 4.0 philosophy, making it possible to integrate data from the cloud and from other sources to optimize both the set-up and daily machine performance..
Potential sectors of application
Metal processing industry – other metal processing operations (e.g., machine tending, stamping, grinding, etc.): RoboBend solution can later be applied to other metal processing operations. This will depend on specific client's needs, and the solution will require adaptation for every other process.
Hardware / Software
Hardware:
Magnetic separator system – pneumatically controlled system to magnetize prefabricated parts to separate placed pieces with magnetization
Mechanical aligner – mechanical aligner unit with specific angle for prefabricated part to be placed and aligned at the same coordinates always
Pneumatic overturner – vacuum system with suction grippers to hold a piece if robot arm needs to take a part differently but with some axis rotation before
Gripper rack – Small, Medium & Large vacuum grippers
Robot arm – 6 axis robot arm
Linear axis – 7th axis for the robot to cover bigger area around
RBMI – robot machine interface to control press brake
Electrical box – electrical control components of the system
Pneumatic system – pressurized air system components to feed specific pressure to robot arm for gripper change, gripping parts; overturned - to hold parts for regripping
Software:
Digital twin – Obelisk – digital twin of the full cell with offline programming, programs and simulations generation
Photos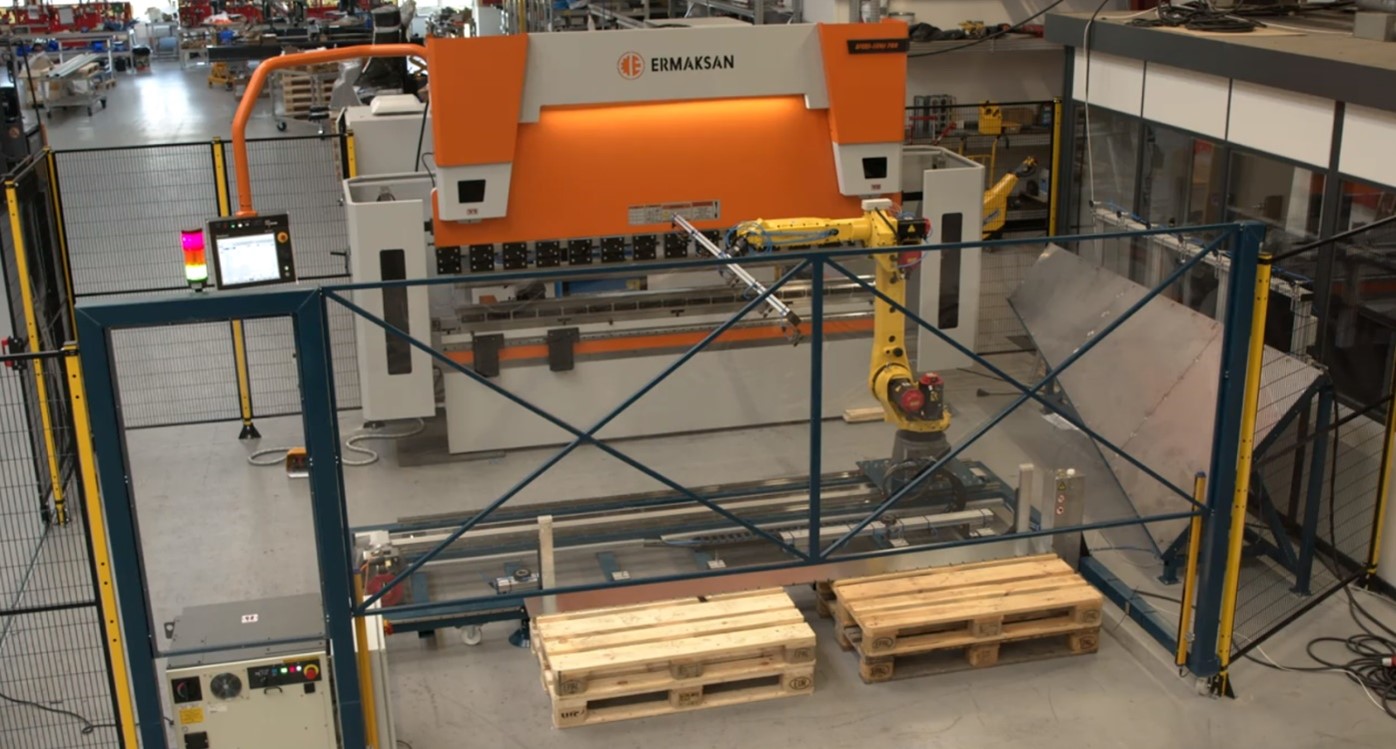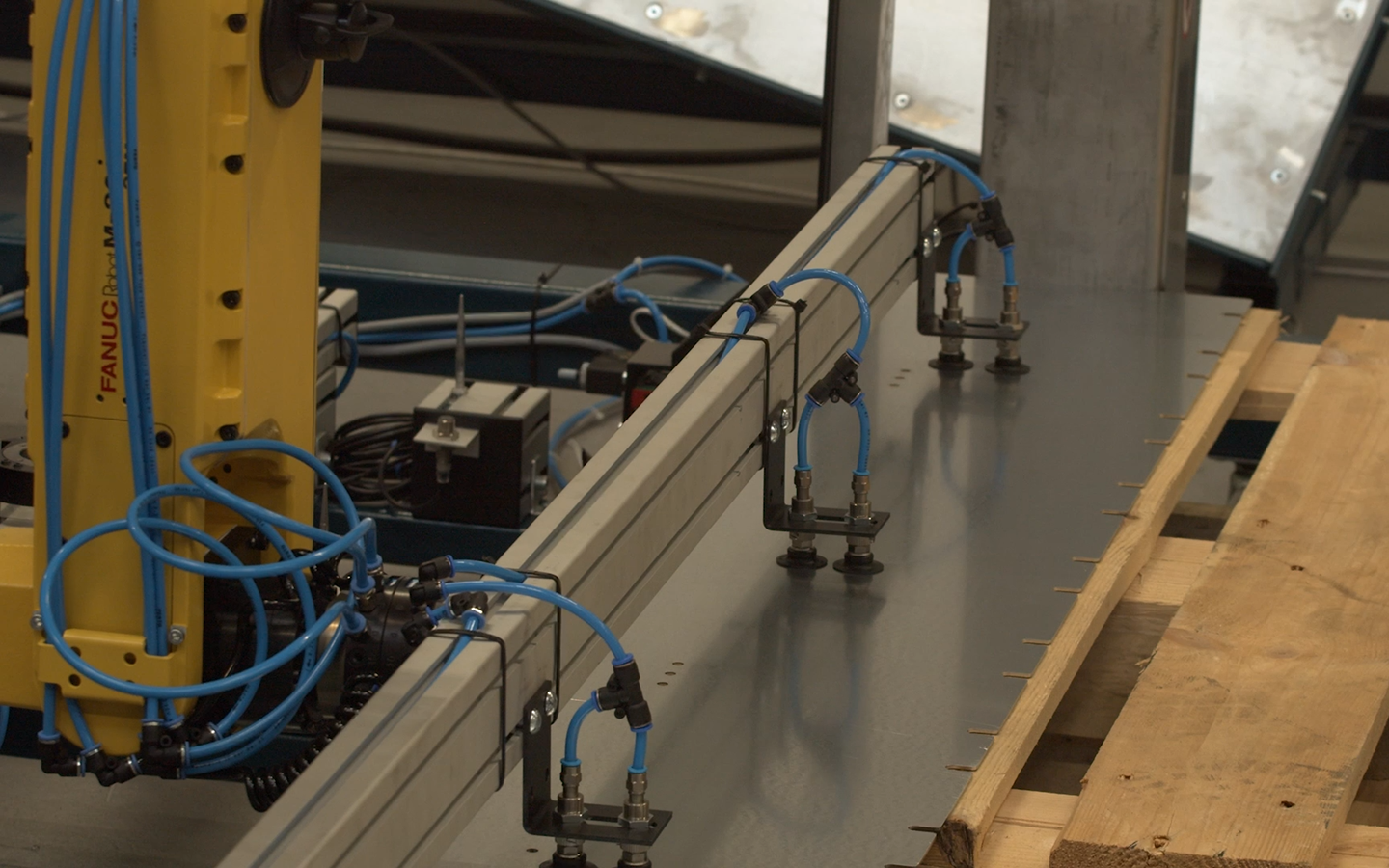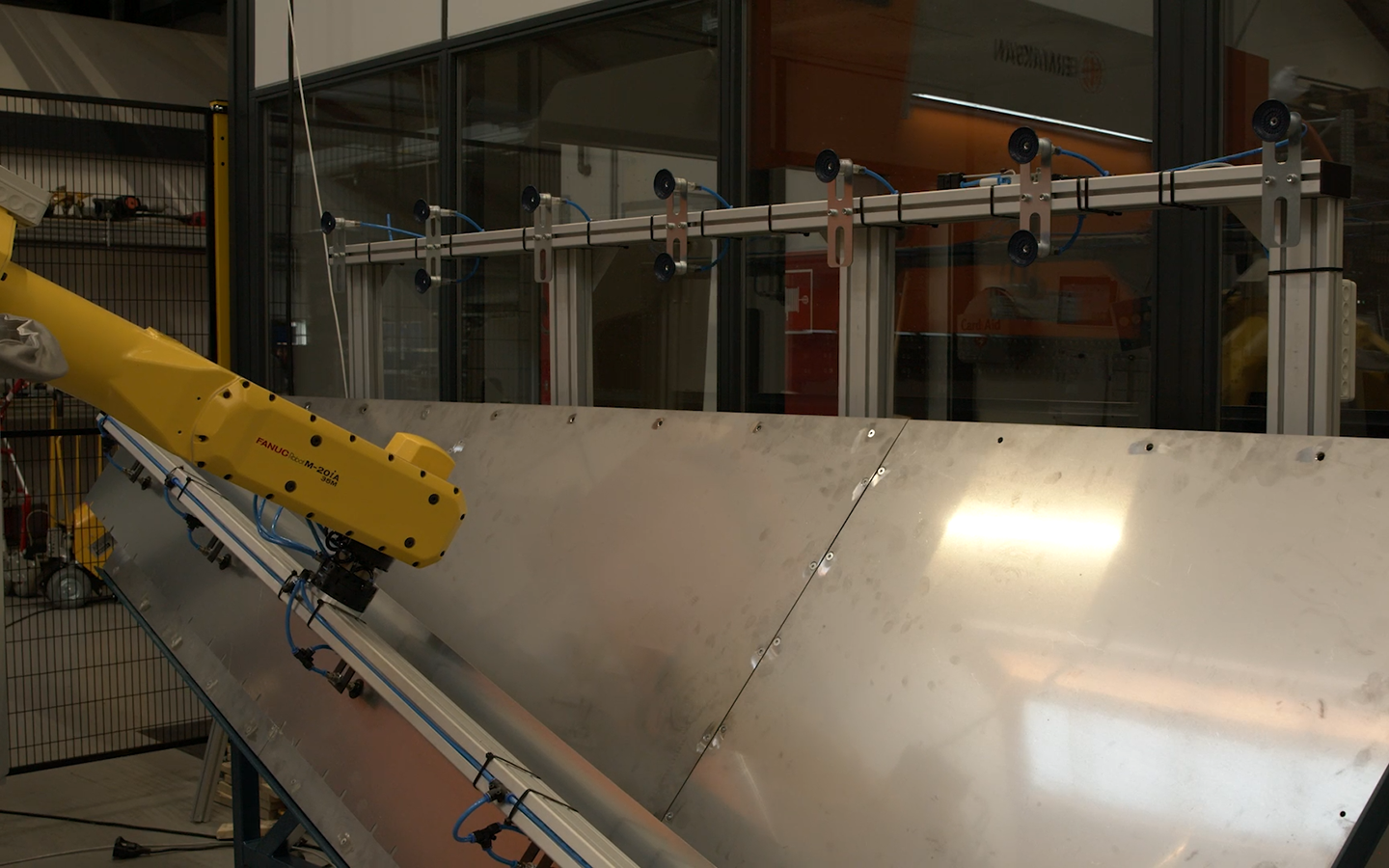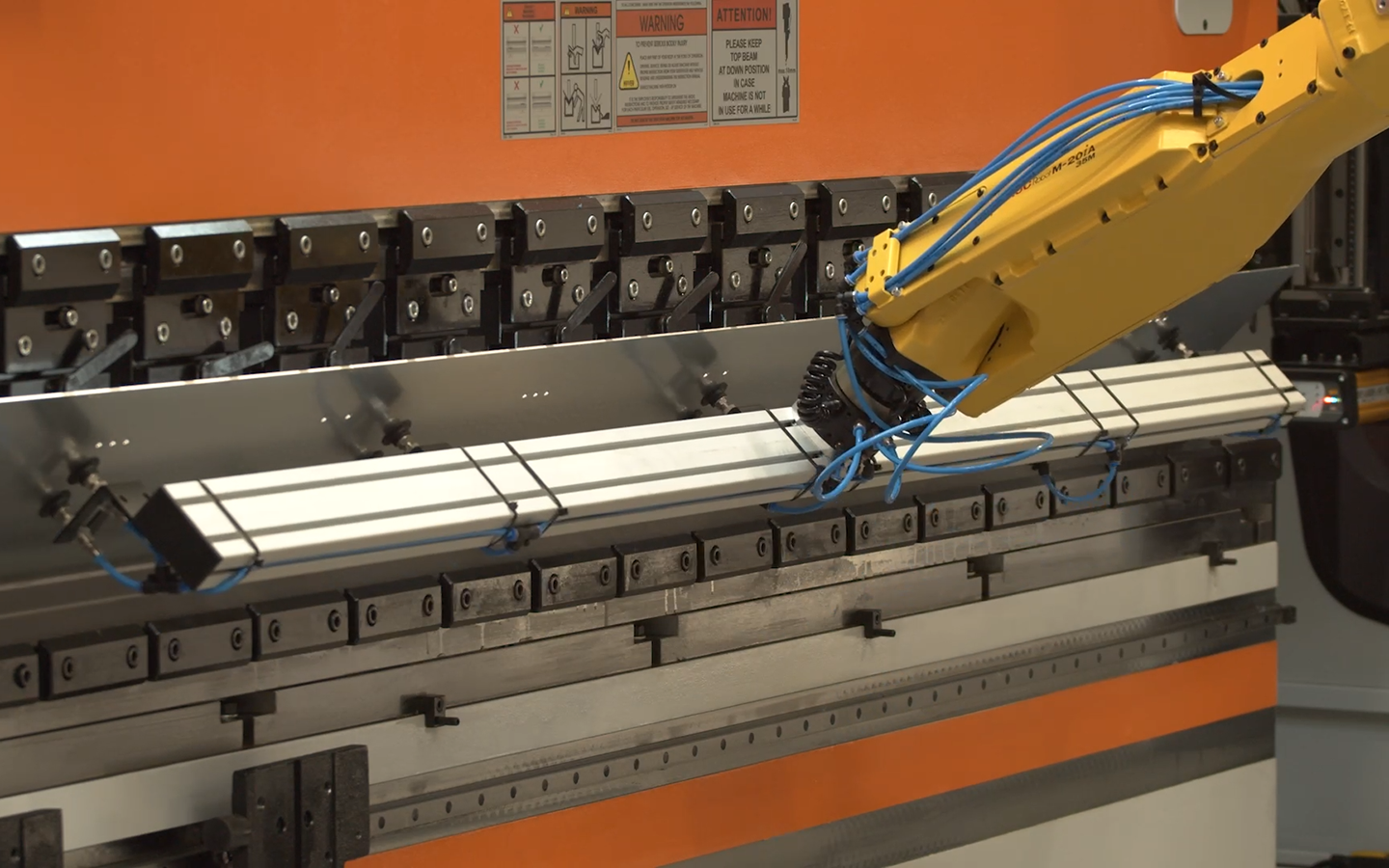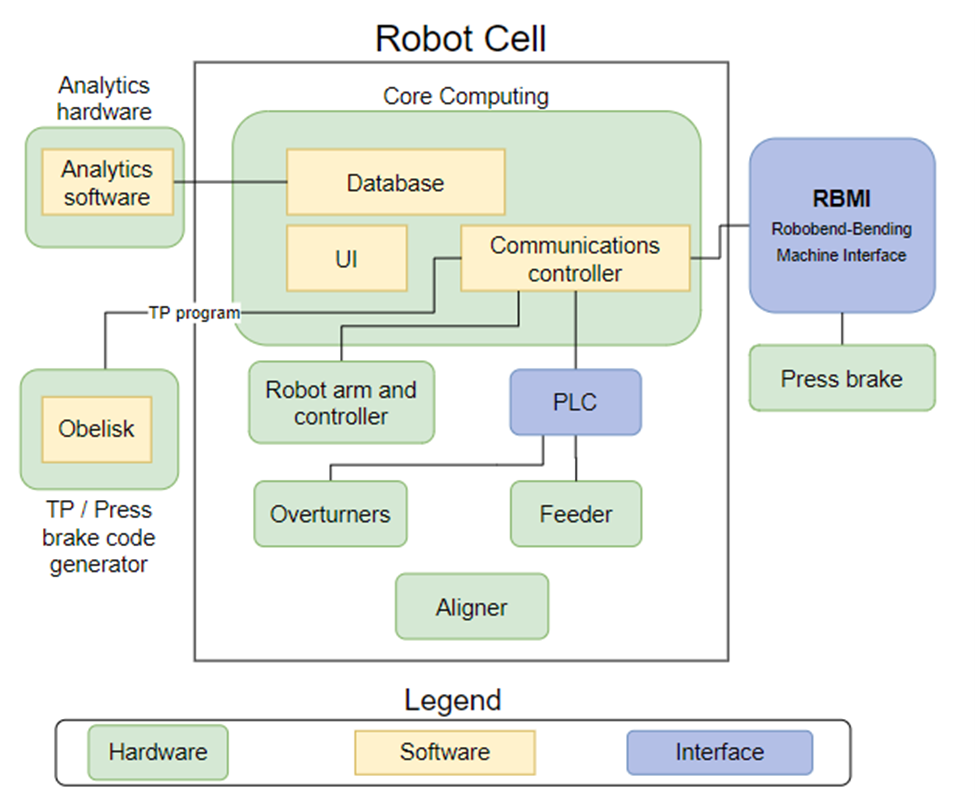 Video
Video describing the solution, problem behind the idea, summarizing key features, KPIs and benefits.
https://youtu.be/B2LHaENONDg
Final RoboBend3000 Demonstration Online at BCM Transtech premises in Broby, Denmark that took place on the 29th of June, 2021. Video consists of the presentation of a RoboBend use case and a demonstration of the RoboBend in action.
https://www.youtube.com/watch?v=MLqfydqF81E