Safe and Collaborative screwdriving for High-mix/Low-volume productions with IoT data logging and analytics
Name of demonstration
Safe and Collaborative screwdriving for High-mix/Low-volume productions with IoT data logging and analytics
Main objective
The main objective of the demonstrator is to showcase how to increase the flexibility and lower programming time for assembly task with collaborative robots running screwdriving task. The focus has been fast and easy teach-in while ensuring high screw insertion process quality. A monitoring system logs all screw insertion data.  
Short description
Every day, millions of screws and bolts are mounted in the European manufacturing industry by employees with handheld screwdrivers in everything from windows to cars & electronic products. The Trinity demonstrator shows how to automate high/Mix – low/volume productions involving screw assembly task, by introducing an easy-to use system which is fast to setup and program. The Easy teaching is ensured by using a small teach pen to pinpoint each screw insertion hole. The system comes with different robot apps e.g. for UR and Omron TM robots to ensure ease of use and a cloud logging system to store torque data.
Owner of the demonstrator
Spin Robotics
Responsible person
The demonstrator is developed by the three partners – Spin Robotics (DK), Trendlog.io (DK) and Elvez d.o.o. (SI)
Spin Robotics is a Danish end-of-arm tool manufacture specialized in assembly applications involving Collaborative Robots. The mission of Spin Robotics is to remove manual and repetitive task during industrial assembly operations by introducing collaborative Plug & Play end-of-arm screwdriver tools for collaborative robots which is fully safety certified.
Spin robotics Aps https://spin-robotics.com/en/
Trendlog.io is a Danish IT tech-company (SME) established in 2003, specialized in data logging and industry 4.0 technology. Trendlog.io helps production companies -big and small – gain full insight into their daily production. Using a secure data collection method and a user-friendly cloud-based platform we collect and visualize all important production data.
Trendlog.io Aps https://trendlog.dk/
ELVEZ d.o.o.  (SME), is the manufacturer of specialized products for automotive industry, electrical and mechanical engineering, and white goods manufacturers. Their employees are constantly engaged in development and implementation of innovative and flexible solutions to meet an outstanding quality and highest customer satisfaction which are the foundation for long term relationship. ELVEZ`s core activity is manufacturing.
Elvez d.o.o https://elvez.si/
Contact: Dr. Thomas Sølund, CTO Spin Robotics – email: ts@spin-Robotics.com
NACE
C26 - Manufacture of computer, electronic and optical products
Keywords
Robotics, IoT - Cybersecurity - Artificial Intelligence - Predictive Maintenance – Revamping, human-robot collaboration, safety, artificial intelligence, cobot assisted manufacturing, Collaborative Robotics, Industry 4.0.
Benefits for the users
With the SD35 screwdriver, the technology user will get reduced production cycles of 40-60%, due to implementing automation in the production line and the removal of human errors. Along with this, the technology user also gets a pick-and-place solution, which comes right off the shelve, that due to its price and low integrator cost comes with a low ROI of 12-14 months, compared to other traditional products on the market. The solution also makes it possible to get a detailed online quality assessment of each screw, and data such as torque will be stored in the device or cloud and can be used to incorporate the tool in industry 4.0 setups. Due to the safety operations programmed in the SD35 the tool is safe alongside humans and allows for true collaborative use, which only needs a short risk assessment time. The tool will also remove the strain on the shoulders and neck manual screwdriving processes take.
Innovation
Manual screwdrivers are the norm is most assembly lines, as they are cheap and can handle the task of screwing. When using manual screwdrivers, employees are presented with strain to the body and the operation can be process to human errors due to fatigue. With robots, these factors are eliminated, and every screw will be inserted unison with precise torque. The SD35 innovates the market by making it possible for all enterprises to get access to a robotic assembly workforce, since it has a low implementation time/cost, and the fact that there is no need to change the setup of the production line.
Accidents can happen in a production line, but due to the safety features, such as the safety shield, of the SD35, those accidents will be eliminated.
Risks and limitations
Risk/limitation: Before deploying and start using collaborative robots with the SD 35 screwdriving tool a risk assessment is always required. The risk assessment must be done in accordance with the ISO12100 standard that describes how to do a proper risk assessment. At Spin Robotics web page, you can find more information about how to do a risk assessment. Here you can download a risk assessment template in excel. Furthermore, you can download test reports from force impact tests the compute be applied during the risk assessment to prove that the tool is safe in according to the ISO/TS 15066. Always remember to update your risk assessment if you change the robot installation or the robot program. Remember also to take into consideration the physical installation or the environments that the robot I inserted into. For instance, are the robot installed close to a wall such that people can get trapped between the wall and the robot. Remember to always read the user manual before starting to implement a new screwdriving application with the SD 35 screwdriving tool.
Technology readiness level
6 - Safety approved sensors and systems are commercially available
Sectors of application
Automotive Industry, Electronic Industry, Wood Industry.
Potential sectors of application
The SD35 screwdriver system for collaborative robots and other products of Spin Robotics are protected by several patents in global publication process.
Hardware / Software
Hardware:
SD35 screwdriving tool (hardware): The end of arm tool together with a mechanical SpinMount coupling that makes it easy to mount the tool at various collaborative robots. The SpinMount makes it easy to shift between different tools due to its click and connect functionality.
SPINBridge (hardware): The heart of the control. The spin bridge box is where all computation and control software are running.
Collaborative Robot (hardware): Universal Robot UR3e, UR5e or UR10e + Omron Techman Robot TM5-900, TM5-700, TM12 or TM14
Screw presenter unit (hardware): Screw presenters can be ordered together with the SD35 screwdriving tool. Different models exist that handles from M2 to M6 screws.
Software:
SpinInterface (software): At the SpinInterface the user can inspect how the current screwdriving process are running and see statistical/historical data about the screw insertion process.
Robot Apps for Universal Robots or Omron TM robots (software): Apps for both Universal Robot (UR), Techman and Omron Techman can be downloaded at our website.
Photos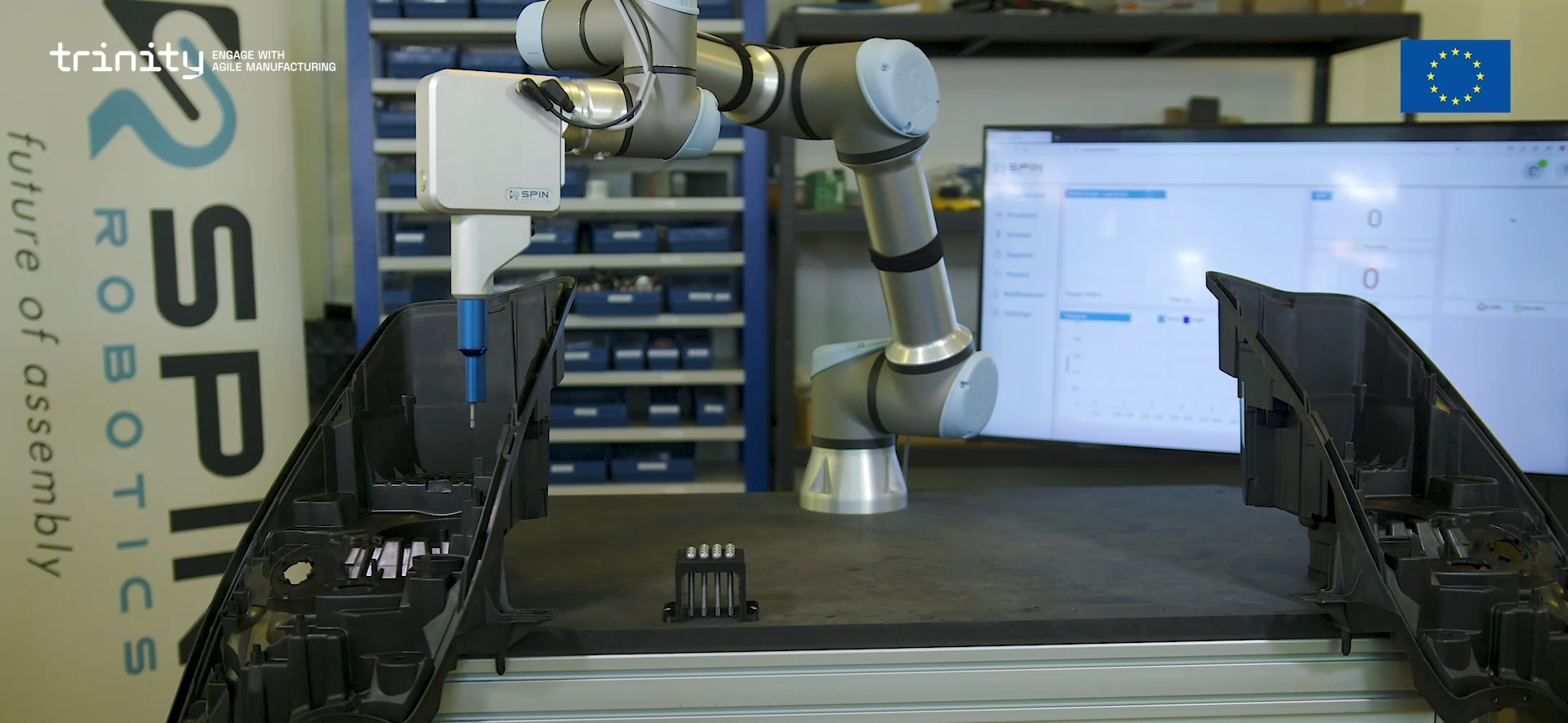 Video
The Trinity promotional video is a case video showing how easy it is to setup and operate a screwdriving process with collaborative robots and the technology developed during the Trinity project. The Trinity executive video explains the developed technology and how it has been utilized in the Trinity demonstrator.
https://vimeo.com/579802633