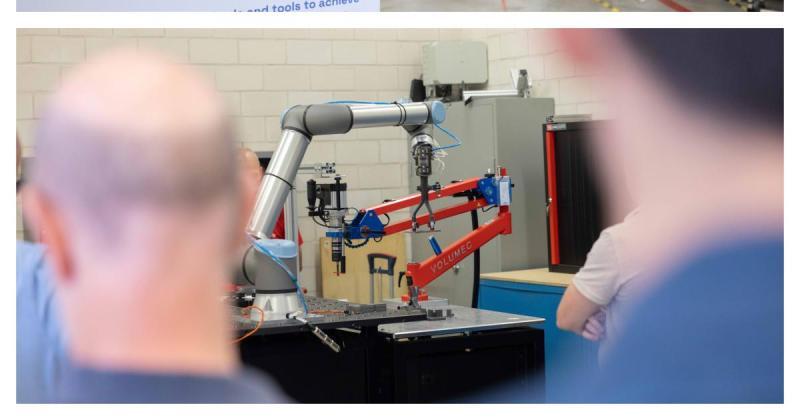 TRINITY Demonstration Programs
2022 12 19
As the year 2022 is approaching its end, we would like to remark on the successful completion of our two demonstration programs, notably the second demonstration program (2021-2022). The first demonstration programme involved 19 SMEs to develop innovative robotics applications, including sensory systems based on Augmented Reality (AR), robot work cells, and IoT wireless networks. The second round of open calls included 18 additional projects that have achieved remarkable accomplishments in advanced manufacturing.
TRINITY Demonstrator's section can provide a list of its various projects. Some of the second-call success stories are listed below:
SpinEye demonstration has developed a collaborative screwdriver with a teach-in interface that combines Artificial Intelligence (AI) and Human Intelligence (HI) to ensure a low-cost and immensely accurate Industry 4.0 solution. The manufacturing solution can support a fast changeover between tasks, and thanks to an embedded vision-guided system, the tool will improve quality as it detects failures and adjusts them. Since last year, the consortium leader of the project, Spin Robotics, automates the assembly tasks through employee-robot collaboration and the built-in safety sensor to protect workers from high-risk tasks that can cause injuries.
RECOPRODAS, a mobile Cobotic Production Assistant (CPA) aims to automate repetitive and manual tasks by adopting a human-centric approach. The demonstrator, under the consortium leader Malmar and its partner Sirris envisions deploying cobots to assist technical operators in their work so that the operators may concentrate on value-adding activities (quality control, elaborate operations, etc.). Therefore, it provides a flexible solution for an automated projection welding machine, allowing small products to be produced in a cost and time-efficient way.
SHAFTS, under the consortium leader, Pick-it NV, has completed the predictable Robotic Bin Picking, the Bullet Picker, for shafts and axles producing companies. The objective of the project is to demonstrate how bin-picking cells can ensure predictable performance, a quick installation, and a simple reconfiguration. This new vision-gripper product consists of a 3D vision system, software, and a modified gripper to automate the manufacturing process of shafts and axles.
Nevertheless, together with our partners, we intend to exploit the project's objectives in the future to maintain different industrial players in the ecosystem of robotics, ICT, and cybersecurity. Therefore, we have already developed a plan for post-project sustainability to preserve the idea and the future potential of TRINITY. All the SMEs that received funding from TRINITY will be kept onboard of our network and will exploit the opportunities offered by our Digital Innovation Hub.
If your company wants to join, contact us to start the procedure and come aboard!