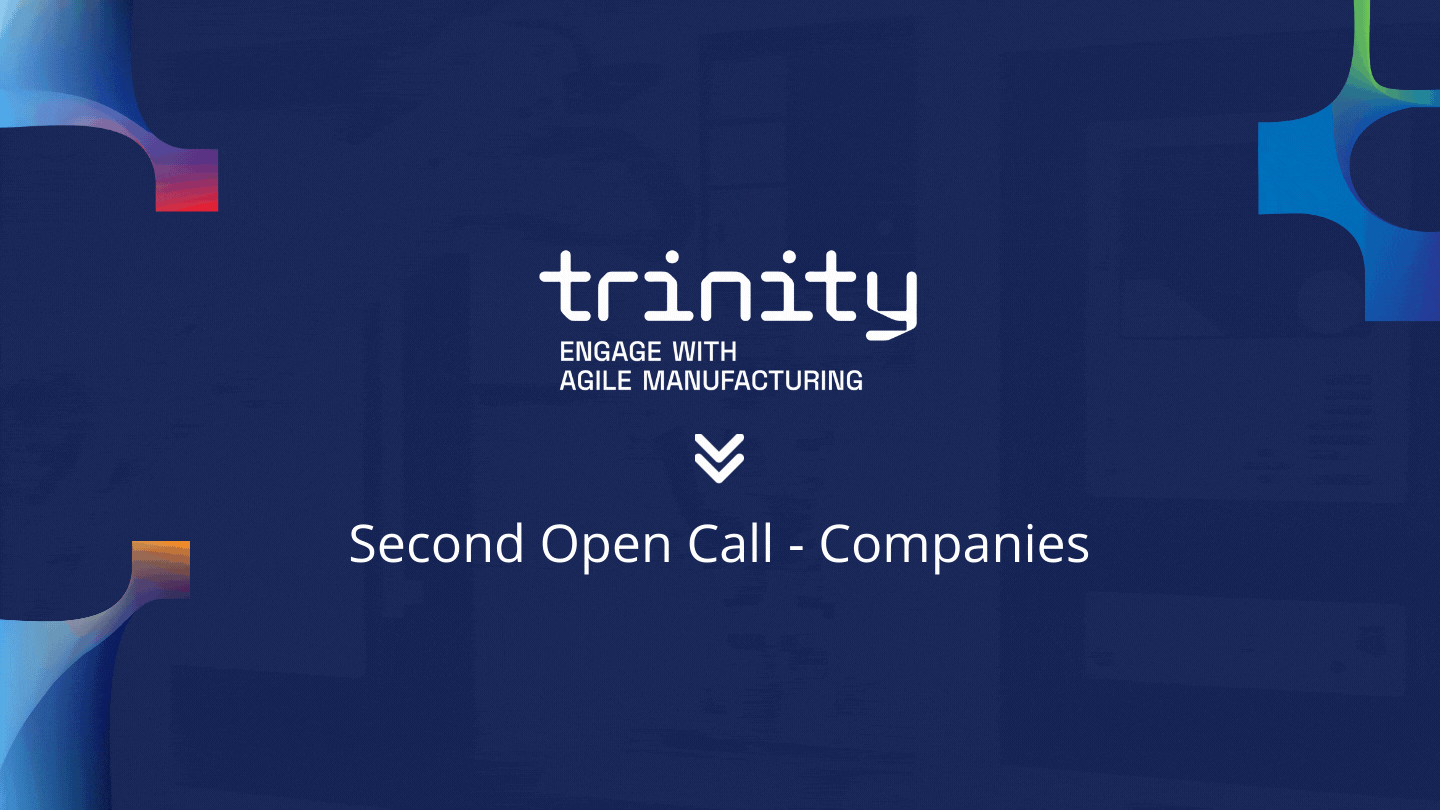 TRINITY second open call NEW Selected DEMONSTRATORS
2021 11 17
We wanted to congratulate the new Trinity partners selected for the second round of the TRINITY demonstration funding!
The second demonstration programme is kick-started, 18 new groups of companies will run their experiments focused on improving the agility and productivity in European manufacturing SMEs through the implementation of robotics, IoT and cybersecurity and the related digital solutions.
Before going into the details about the selected consortia, have a look at the following figures related to the Second Open Call: the consortia are made of 3 partners for 12 projects and 2 for the remaining 6. Twelve consortia are female-led and 4 are led by companies from the EU13 countries. With a total of 48 beneficiaries from 20 countries and 9 Trinity use cases to test, we officially launch the Second Trinity Demonstration Programme.
We are pleased to announce the projects that have been selected and will soon start their activities:
ATLANTES (Stam SRL, Viska Automation Systems LTD, Composite Industry SRL)
Quality control of carbon parts based on machine vision.
Aurora (Pumacy Technologies AG, SVOTT AS, University of Ljubljana)
Datastream processing in Human-Robot-Collaboration.
BRILLIANT (Ideal-tek SA, Scuola Universitaria Professionae della Svizzera Italiana, Holonix SRL)
Collaborative solutions for flexible artisanal manufacturing.
CANNIER (Robotics Solution Advisor S.L., STAM SRL, Composite Industries SRL)
Robotic lamination of composite parts.
CORS (Altechna R&D, ABB AS)
Collaborative robotic solution for laser micromachining.
Dyncomm (ELECTROTECNICA ALAVESA, Video Systems SRL, Ikerlan S.Coop.)
Dynamic collaborative control of mobile manipulators for complex picking.
Intelli5.0 (Nissatech IC, TIME SRL)
Toward Industry 5.0: Collaborative Intelligence for supporting enhanced human-cobot interaction in agile production, demonstrated through the creation of innovative in-process quality inspection services.
MCPPS (Symate GmbH, TOS Varnsdorf as, Technische Universitat Dresden)
Demonstrator for a milling CPPS.
PROTON Robots (10Lines, ZeniaLabs Automation Intelligence SL)
Precise positioning in alternating environments for autonomous railway inspection and parking lot striping robots.
RAISE (MYWAI, YOLO Group SRL, Neurotechnologijos UAB)
Robots as an intelligent services ecosystem.
RECOPRODAS (Malmar Lithuania UAB, SIRRIS)
Reconfigurable Cobotic Production Assistant.
RoboCut (UAB BaltLED, Industrial Robotics Company, Stogger)
Custom industrial packaging production robot.
Robs4Steel (CASP SA, Stomana Industry SA)
Robotized inspection system for high-temperature electric arc furnaces (EAF).
SHAFTS (Pick-it NV, AI Crowd sro, DELTA TECH Engineering Office Ltd)
Local demonstrations of predictable bin picking.
Sharky (SHARKSILVER ALUMINIUM BOATS SL, Fundacion AITIIP, University of Bologna)
Worker-centric programming tools for free designing of lightweight aluminium-based products.
ShipWeld (IKnowHow SA, Carell SA, UMNAI Limited)
Mobile, flexible robotic welding system to reshape the European shipbuilding industry.
SpinEye (Spin Robotics, D-Cube)
AI & Cloud enabled vision system for agile teach-in of assembly processes.
VisDeburr (Convergent Information Technologies GmbH, Flexido d.o.o., Elektrorakenne Oy)

Vision guided deburring of welded seams.
TRINITY hopes you all successful demonstrations!
Stay up to date with the evolution of the second program & follow our channels