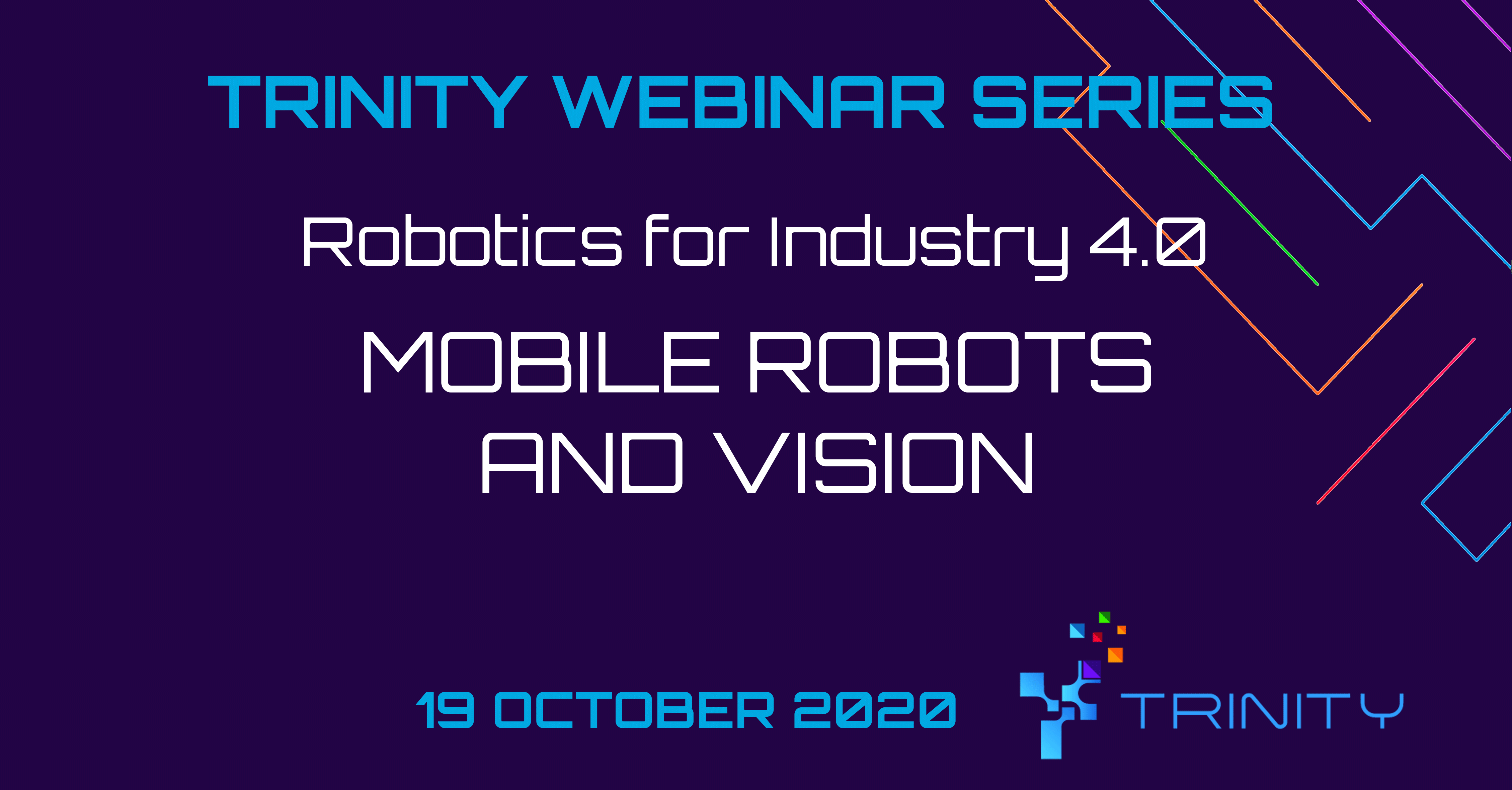 Robotics for Industry 4.0 – Mobile robots and vision
2020 10 22
On 19 October 2020, TRINITY project hosted the third episode of its webinar series on Robotics for Industry 4.0. The aim of the series was to present to the broader audience the robotic demonstrators that SMEs are currently implementing thanks to TRINITY funding, obtained through the first round of open call closed in March 2020. Each project will run from 6 to 12 months, and the SMEs can benefit of TRINITY expertise to benefit the most from their innovative robotic solutions for the all duration of their implementation. The webinar series is made of 4 events, each one grouping the demonstrators according to their field of application. In this episode, the companies that are now implementing their robotic demonstrators have presented their innovative solutions for mobile robots and vision.
After a brief introduction on the TRINITY project and the opportunities that SMEs can have through our open calls, the first demonstrator to be presented was ALOFAP -AMR Logistics Orchestration For Agile Production by Mr Stijn Lambrechts, Advisor for advanced manufacturing at Sirris, Belgium.
As optimization of internal production logistics is crucial to increase agility, integrating a task driven AMR solution is still very complex and the loading and unloading is still too slow (docking). It is also difficult to combine systems of different brands. This demonstrator will show a solution for these challenges, that can be reproduced in your own facility.
The demonstrator shows that by using AMRs in production the walking time of operators is reduced by 20%; the floor space taken by machine buffer stocks can be reduced with 50% and the amount of operator time  needed to run the machines is reduced by 20%.
▶ Watch the full presentation of ALOFAP here.
The second demonstrator to be presented was 'LOMSAS -Location based safety for human-machine interactions', by Mr Jen Rossey, CEO at Lopos bv, Belgium. LOMSAS project demonstrates a single, low infrastructure cost system for manufacturing that enables track&tracing, the creation of worker safety zones and/or collision detection. The solutions will be made available for experimentation through the IMEC industrial IoT testbeds, to finally achieve substantial reduction of human-vehicle collisions, and accidents due to operation of machinery outside safety zones, as well as reduction of COVID spread due to safe distancing.
▶ Watch the full presentation of LOMSAS here.
'RoboLibri – A fully autonomous and highly interactive inventory taking robot' was the next demonstrator on the agenda and its overview was given by Johannes Trabert, MD at MetraLabs GmbH, Germany. Robolibri is a fully autonomous and highly interactive inventory taking robot for agile production, and multiple solutions such as libraries, archives, warehouses, offices, etc. By applying this solution, you can achieve an higher level of intralogistics automation, near real time and accurate information on inventory with online availability, Fast Product Access Enabled by Precisely Known Product Location, and increased efficiency and enhanced environmental protection by eliminating inventory in excess.
▶Watch the full presentation of RoboLibri here.
A solution to successfully and quickly sort portable batteries was presented by Matti Tikanmäki, CEO at Probot Oy, Finland with their project 'RoSo_UPB – Robotic Sorter for Used Portable Batteries'. AkkuSer Oy receives and sorts all the recycled portable batteries in Finland (1.500 tons per year). After the sorting, it is possible to re-use the metals used in the batteries as well as re-locate the dangerous materials safely after the use. This project aims to automatize the slowest part of the process (identifying and sorting the cylindrical cells (AAA to D size) and the consumer batteries and save up to 50% of time, expanding the capacity and allowing more batteries intake or new types of intake.
▶ Watch the full presentation of RoSo_UPB here.
The presentation of 
'EACHPack: End-to-end Automatic Handling of Small Packages'
by Mr Nicola Castaman, R&D Manager at IT+Robotics, Italy, concluded the event. EACHPack proposes a complete robotized handling system for parcel posts (e.g., letters and small boxes under 5kg). The system is be able to pick each parcel post from a bin, weigh it, measure its volume, and sort it according to the destination in different outgoing containers. The overall desired achievement is to increase the parcel sorting rate while reducing the sorting mistakes, especially for express couriers that need to automatize parcel sorting process.
▶ Watch the full presentation of EACHPack here.
Watch the complete recording
⏬⏬⏬