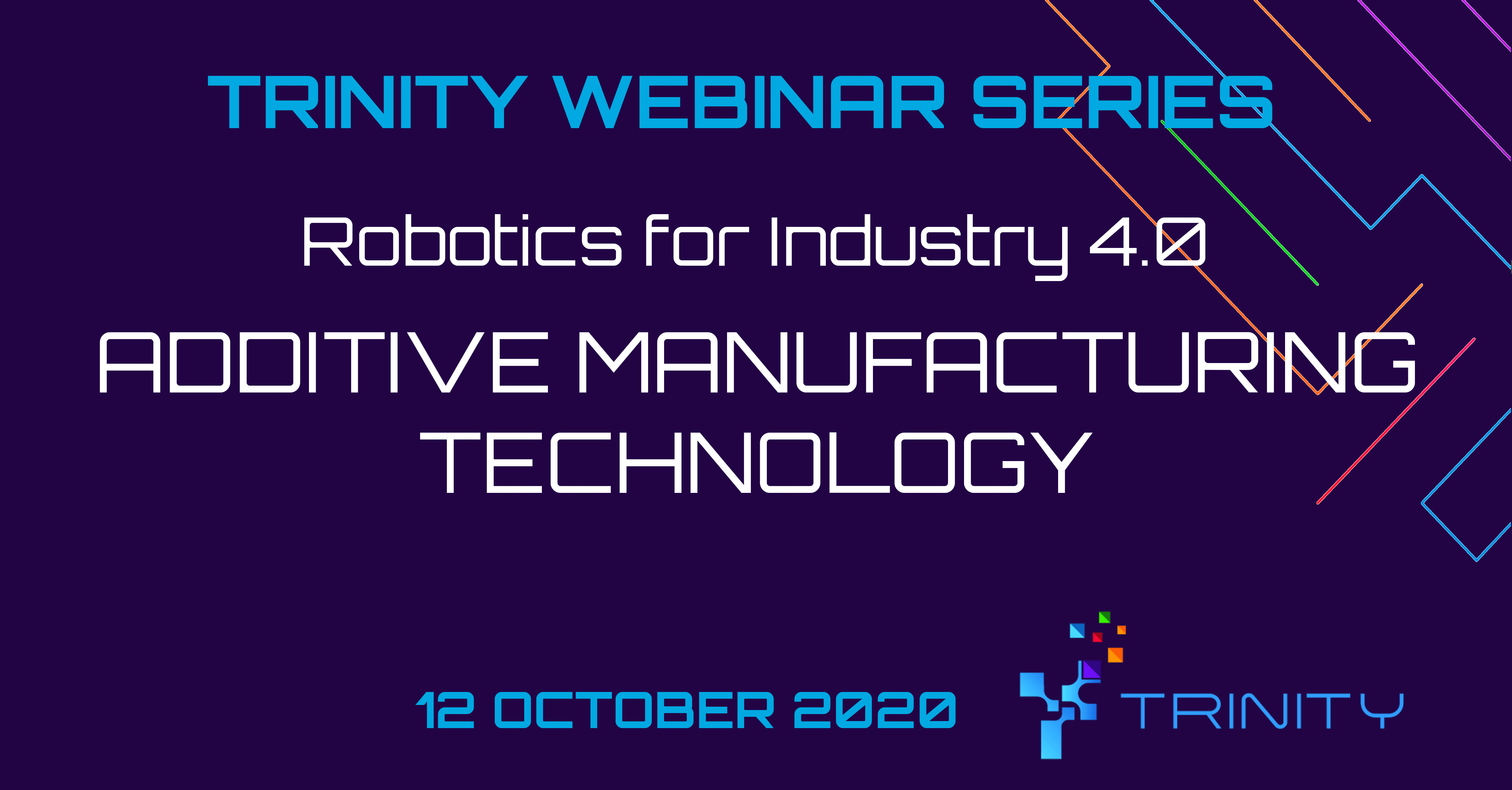 Robotics for Industry 4.0 – Additive Manufacturing
2020 10 19
On 12 October 2020, TRINITY project kicked off its webinar series on Robotics for Industry 4.0. The aim of the series was to present to the broader audience the robotic demonstrators that SMEs are currently implementing thanks to TRINITY funding, obtained through the first round of open call closed in March 2020. Each project will run from 6 to 12 months, and the SMEs can benefit of TRINITY expertise to benefit the most from their innovative robotic solutions for the all duration of their implementation.
The webinar series is made of 4 events, each one grouping the demonstrators according to their field of application. In this episode, the companies that are now implementing their robotic demonstrators have presented their innovative solutions to support of Additive Manufacturing technology.
After a brief introduction on the TRINITY project and the opportunities that SMEs can have through our open calls, Mr Halldor Arnarson from 'UiT the Arctic University of Norway' – TRINITY project partner – presented a case-study showing a real application of wire arc additive manufacturing with industrial robots.
▶ The recording of this session is available here.
The event went on with the presentation of the projects, beginning with SALSA2d – a real-time online-offline robotic programming interface specific to AM, presented by the coordinator Robert Bush, CEO of Additive Automations, UK. For the implementation of SALSA2d, Additive Automation is working together with Advanced Manufacturing Research Centre of the University of Sheffield.
Their project aims at building an automation software specific to AM post-processing tasks, which integrates the three core aspects of robotic automation (teach, simulate, control). This includes a digital twin and an autonomous control system utilizing vision and force sensing. Finishing AM is still, in fact, a largely manual process that makes it uneconomic for production volumes. The deploying of this robotic solution integrated with the AM process will tackle this problem.
▶ Watch the full presentation of SALSA2d here.
The second demonstrators showed during the event was '
LDM-AUTO – laser cladding with robot-assisted bin-picking and robot-robot welding'
, presented by Tom De Bruyne, CEO of Laser Cladding Venture nv, Belgium.
LDM-AUTO aims at automating the process of laser cladding on two fronts:
Automate material handling with robot-assited bin-picking and robot-robot welding
Enable turn-key operation by means of Industry 4.0 operation. The core of the LMD auto module is the combination between specific sensoring solutions and active process control.
The benefits expected from the implementation are a 10% improved laser-on time, and a 50% reduced setup and Process validation time, as well as yield-loss.
▶ Watch the full presentation of LDM-AUTO here.
WAAM CLAMP – Robotised 3D printing for creating a customized industrial pipeline clamp was the third demonstrator presented by Thomas Van Glabeke, R&D and Business Developer at MX3D, The Netherlands.
The project aims at demonstrating a hybrid metal additive manufacturing to reduce production lead time of customized industrial pipeline clamps for pipelines leakage repair in oil and gas industry. The possible benefits of the implementation of this Robotic Wire Arc Additive Manufacturing (WAAM) include facilitating post-processing and inspection acceptance by integrating standard connections and 3D printing to create a customized industrial pipeline clamp, as well as reducing the lead time compared to the conventional methods (manual welding or CNC milling).
▶ Watch the full presentation of WAAM CLAMP here.
The last, but not least, demonstrator presented was 'X-WELD – Planning, Accuracy and 3D sensing for full automation robotic welding', by Pedro Tavares, Head of R&D at Sarkkis Robotics Lda, Portugal
X-Weld project, wants to develop a complete automated system for robotized welding through the combination of advanced (collision free) offline programming, with advanced sensing for part localization and robot calibration. The expected reduction in cycle time is expected to be around 40% when compared with wire touched-based solutions, and 25% when compared with laser line triangulation system. The expected reduction in programming cycle time for a new part/jig above 60%. The costs are also expected to be lower by at least 30k€ per year.
▶Watch the full presentation of X-WELD here.
Watch the complete recording
⏬⏬⏬