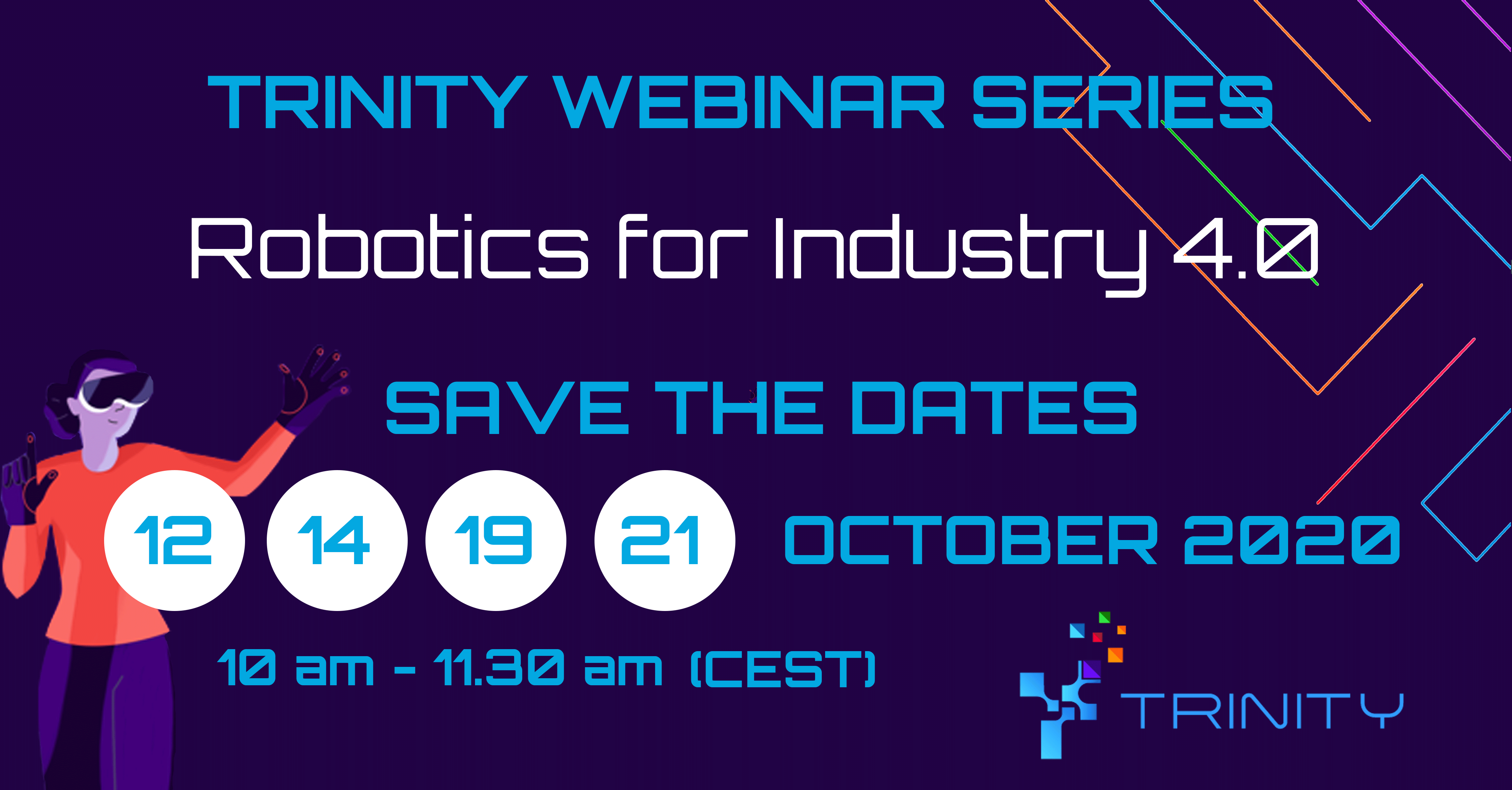 TRINITY Webinar Series: Robotics for Industry 4.0
Location

Online Webinars - Microsoft Teams

Duration

1 hour 30 min
TRINITY DIH is delighted to launch its Webinar Series on 'Robotics for Industry 4.0'. The 19 innovative robotics demonstrators, which received funding under the first TRINITY open call, will be presented during 4 webinars. The demonstrators are currently being implemented by pan-European consortia of SMEs, to support and boost agile manufacturing.
Discover the full programme of the series with the description of the robotic demonstrators that will be presented and their field of application!
Register here for FREE!
12 of October: Robotics for Industry 4.0 (support to Additive Manufacturing technology):
Additive Automations: 'SALSA2d – Separation of Additive-Layer Supports by Automation via 2-way Digital Twin'.
Project SALSA2d intends to develop a real-time online-offline robotic programming interface specific to AM 
Lcv: 'LDM-AUTO'
Project LDM-AUTO aims at automating the process of laser cladding with robot-assited bin-picking and robot-robot welding, as well as by enabling turn-key operation by means of Industry 4.0 operation. 
Mx3D: 'WAAM CLAMP'
The project aims at facilitating post-processing and inspection acceptance by integrating standard connections and 3D printing to create a customized industrial pipeline clamp.
Sarkkis Robotics Lda: 'X-WELD'
The aim of the 'Planning, Accuracy and 3D sensing for full automation robotic welding, X-Weld project, wants to develop a complete automated system for robotized welding through the combination of advanced (collision free) offline programming, with advanced sensing for part localization and robot calibration.
 14 of October: Robotics for Industry 4.0 (IoT, sensors, easy programming):
Aldakin: 'ARGRIND – Advanced robotics for accurate grinding of complex metal parts'.
Among the main features, AGRIND robotic system sees a scalable industrial robot and compliant grinding tools, embedded tool wear control for homogeneous material removal along the part, as well as continuous robot and process monitoring for production traceability.
SNIPE project proposes an AI-based decision support system for predictive maintenance and monitoring of processes in Foundry and Casting Industry with the goal of creating a Smart Monitoring infrastructure for Revamping 4.0 of non-digitalized Foundry process. 
Knowhedge s.r.l.: 'The MYWAI 4 ROBOTICS™'
The demonstrator aims at delivering chip based Artificial Neural Networks (ANNs) trained to detect anomalies and near-to-fault operational conditions directly at the very edge of robotic workforce.    
RoboBend ApS: 'ROBOBEND -World's first standard bending robot'
RoboBend can be used at any of the existing press brakes replacing operators and increasing efficiency. The interfacing between the robot and the machine, the standard robot cell design, and the conversion of drawings to programs create a kit for process standardizing.
Spin Robotics: 'Digi-SAAP -Digitalization of collaborative Screwdriver Applications in Agile Productions'
The goal of this project is to introduce the first digitized end-of-arm screwdriving tool for collaborative robots, with integrated industry 4.0 functionalities for process quality control. 
19 of October: Robotics for Industry 4.0 (Mobile robots and vision)
Flagstone: 'ALOFAP -AMR Logistics Orchestration For Agile Production'
Optimizing internal logistics to increase production capacity per m² and move operator focus to add-value task.
IT+Robotics: 'EACHPack -End-to-end Automatic Handling of Small Packages'
EACHPack proposes a complete robotized handling system for parcel posts (e.g., letters and small boxes under 5kg). The system will be able to pick each parcel post from a bin, weigh it, measure its volume, and sort it according to the destination in different outgoing containers.
Lopos: 'LOMSAS -Location based safety for human-machine interactions'
This project demonstrates a single, low infrastructure cost system for manufacturing that enables track&tracing, the creation of worker safety zones and/or collision detection, for prevention of work accidents due to human-vehicle collisions & incorrect operations of dangerous machinery.
MetraLabs GmbH: 'RoboLibri'
The Intralogistic Cornerstone for Agile Production proposes a fully autonomous and highly interactive inventory taking robot for agile production, libraries, archives, warehouses, offices etc.
Probot Oy: 'RoSo-UPB, Robotic Sorter for Used Portable Batteries'
This project aims to Design and build a system capable of conveying, labelling and sorting used portable batteries, by automatising the slowest part of the process (identifying and sorting the cylindrical cells (AAA to D size) and the consumer batteries.
21 of October: Robotics for Industries 4.0 (Human-robot collaboration)
Adaptive Robotics: 'DynaMo -Real time dynamic motion planning for industrial robots'
The DynaMo project wants to present a solution to simplify robot programming, make robots cells more flexible and efficient with real time dynamic motion planning. This will increase adoption of industrial robots for SMEs and serve the needs for the growing SME market.  
AllbeSmart: 'AGILE'
The AGILE project will develop and demonstrate advanced robotics solutions to increase the agility of the automotive cable production. It will replicate and adapt 3 TRINITY Use cases to be integrated and validated in the new generation of robotic machines designed to produce automotive wiring harnesses.
Mentech: 'AMS -Affective Manufacturing System'
The project demonstrates an affective production platform for high-quality production of low-volume high-mix products. The platform integrates a novel operator stress detection module of Mentech, based on measured physiological features of the operator, and artificial intelligence algorithm for stress detection.
Quanta & Qualia: 'TRAINMAN-MAGOS'
The project vision is to disrupt the state-of-the-art solutions and enable increased automated solutions for industrial robots, offering higher dexterity via a more human-centric robot programming procedure.
Stam S.r.l.: 'ICON -agIle eleCtric mOtor manufacturing'
The project will deploy three TRINITY-originated HRC modules in ICPE shop floor to increase flexibility of electric motor manufacturers through collaborative robotics for coils winding.