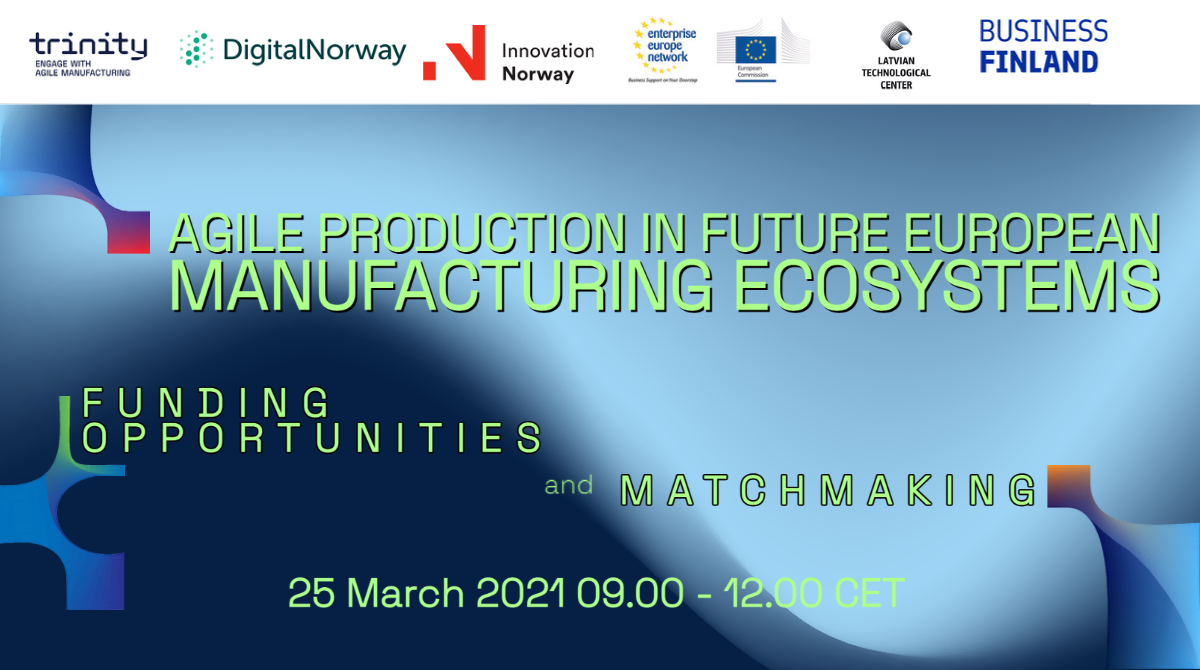 Agile Production in Future European Manufacturing Ecosystems
Location

Online: Zoom and B2B Matchmaking Platform

Duration

3 hours
Welcome to the
Agile Production in Future European Manufacturing Ecosystems
Funding opportunities and matchmaking

Are you an SME working to contribute to novel robotics solutions that will increase agility in production systems? In areas such as collaborative robots, reconfigurable systems, virtualization, IoT, and data and system security.
Do you plan to contribute to answer the European Industry demand for advanced, highly flexible and collaborative robotic solutions and be competitive?
Join us on the 25th of March for a unique event where you can discover funding opportunities within the EU and participate in a dedicated networking event to match with interested partners to join a consortium to present a project proposal! Don't miss it!
When? Workshop: 09.00-12.00 CET 25 March 2021.

o 09.00 to 09.10: Welcome – Innovation Norway by Silje Brit Whist
o 09.10 to 09.20: TRINITY – Funding opportunities, technical, training and consulting support by Minna Lanz
o 09.20 to 09.30: Success stories from TRINITY 1st open call by Thomas Glabeke and Rene Backx
o 09:30 to 12:30: Virtual matchmaking (B2B)

Where? Online – Zoom link will be provided. B2B matchmaking sessions after the initial presentation and discussions (meetings must be booked via B2Match)
Questions? Get in touch: Pavan Sriram, pavan.sriram@digitalnorway.no